First mechanized fire truck at Bustleton Firehouse in 1913. John Moser driving. Firehouse started in 1901 and used until 1956. First equipment was horse drawn. Located west side of Bustleton Pike, north of Fulmer Street. Above is a 1913 Alco Truck.


Looking north where Bustleton Pike and Welsh Road overlap for a block. Union Hotel before 1900 was the Eagle Hotel from early or middle 1800s. Only 2 old buildings in this block remain.

An early auto accident in Bustleton. Car is a 1906 or 1907 model. Location is uncertain.


These beautiful homes still standing on west Welsh Road, just east of where Grant Avenue now meets Welsh Road. Notice early electric street lights from before 1900.


A pre-revolutionary war building became an arsenal during the same war. In 1870 it became the Pennsylvania RR Station for the Bustleton/Holmesburg line. Demolished 1968.


R. A. Erwin's first Chevrolet Showroom in 1918. This photo was taken sometime after 1922.
Fayette Consolidated School taken in 1900. Second building at the site of oldest school site in Philadelphia in continuous use for
over 200 years, 1790-Present. In 1916 it became W.C. Jacobs Public School. East side Old Bustleton Avenue, south of Welsh Road. Now N.E. Hebrew Academy.






Hayride for young children from Lower Dublin Baptist Church. Sometime between 1911-1918. This was one of the many social activities of that time. Stopping in the 9500 block of Bustleton Pike.
This is the third school in Somerton—Built 1892, Watson Comly Public School.


This local Somerton General Store has had seven proprietors in over 100 years. Depue's, S. T. Erwin, Adam McLean, William Quigley, CoIIin's, Baer's and now Brittingham's. Many good memories are told about this store on Maple Avenue east of Bustleton Pike.


Patriotic Order Sons of America—A lodge—The Somerton group had a band. Many enjoyed their concerts.






Taylor's Barn was a central part of Somerton from late 1800s into the 1940s. Two local churches started here—St. Andrew's and St. Christopher's. A sub-Police Station 1898 to 1945. Dances were held here for the young people. A library and debating club used it too.


Houseman's Pond was enjoyed by the local Somerton people, even overnight camping. Located on the south side of Byberry Road between Bustleton Pike and Worthington Road. Now the site of the Fraternal Order of Police House.
This log house was built in 1734 and stood until about 1918. Indians lived here in the early days. W. D. Bubeck, builder in Somerton, built his daughter a house, also gone. East side of Bustleton Pike, north of Trevose Road. Now apartments and condos.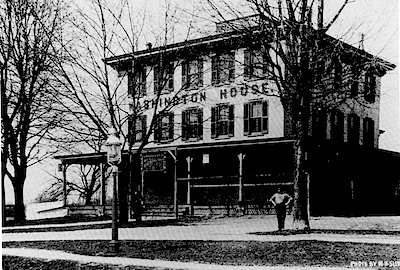 Washington House Hotel—First seen on a 1887 Atlas map. People have good memories of this hotel even into the 1950s when they held auctions under the horse sheds. On November 21,1937 you could get a Roast Young Turkey Dinner for .75 cents with appetizer and dessert included.






Philadelphia County Fair at Byberry started 1912 till late 1920s. Located on south side of Byberry Road, west of the Boulevard and the Short Line Railroad behind old Somerton Fire house. Sulky horse racing, judging of farm animals, produce, canning and preserves and bake goods were all part of the County Fair. Fair ran until the late 1920s. There was a 1/2 mile race track, two large buildings, and grandstands on 100 acres.
Most neighborhoods in the 1900's had baseball teams. This is Somerton Team 1908. Neighborhood teams are still popular today.
A social function of the earfy days, teens into late 1930s. This was a Tom Thumb Wedding held at Somerton Methodist Church in March 1918. Church dates back to 1834. Children took on identities of the local residents.


Knight's Mill on Poquessing Creek was the oldest mill on the creek dating back to 1750. It was rebuilt in 1815 and today is near the site of Creek Edge Nurseries. Picture taken 1899.


Byberry Farms were on the east side of Roosevelt Boulevard, north of Southhampton Road. Farms were part of Byberry since the Hospital was started in 1908 by the city. Farms supplied food to all city institutions even into the early 1950's.
Carmicheal Presbyterian Church built in Mechanicsville in 1886. It is now a residence. Church is now located on Street Road, Bucks County.






"Thornton Abbey" Home of James Thornton, 1750 minister of the Society of Friends. Home was on west side of Thornton Road south of Byberry Road. Now site of Holy Redeemer Nazareth Home Care Hospice Service. This house was used for the first patients that came to Byberry Hospital.

Bustleton, Byberry and Somerton were located in Townships of Byberry, Moreland and Lower Dublin. The area was settled in 1645 by Swedes, with Penn's Quakers arriving some thirty-seven years later. The Walton Brothers from Bibury England were the first known English settlers in the area. They arrived at New Castle, Delaware about 1675 and made their way walking up the Delaware River looking for a place to settle. When they came to the Poquessing Creek the land reminded them of home, so they chose it for their future home.
The area of Byberry included all of the land along the Poquessing Creek to the Delaware River and inland to the west. Byberry encompassed the small community located next to the Byberry Friends Meeting House on Byberry Road. These Quaker settlers and the Indians were quite friendly. There was a great abundance of game for food and the Indians taught the settlers how to plant corn, beans and pumpkins. They first started to meet in their homes in 1683 and built their first Meeting House nine years later. By 1800 there were 579 inhabitants in Byberry, growing to 1055 by 1840. A store, Post Office, Blacksmith Shop and a Carpenter Shop were located near the meeting House.
Through the years Byberry was enlarged to include many different neighbor- hoods. Small communities like Mechanicsville, Parkwood Manor, Modena Park, Millbrook, Crestmont Farms, Morrell Park and West Torresdale all were part of Byberry Township. Today little is left of the original town of Byberry. Only Byberry Friends Meeting and Byberry Hall remain to immortalize the town settled by the Walton Brothers.
The oldest remaining neighborhood is Mechanicsville which lies just east of Byberry Friends Meeting. It was named, as one might expect, for the mechanics who settled there. The trades people represented in this small town were carpenters, wheelwrights, masons, storekeepers, machinists, butchers, saddlers and harness makers. These trades were invaluable to an area mainly settled by farmers and cattle ranchers.
Mechanicsville was home to a mill for sawing lumber and grinding feed. It is believed that the lumber for the third Byberry Friends Meeting House in 1808 was prepared at a mill erected by Evan Townsend in 1774. There was also a quarry nearby, from which stone was acquired for some of the local buildings. About the same time a public school began successful operation in Mechanicsville. The town is still inhabited today and is the last surviving of the original towns in Philadelphia.
West of Byberry on Byberry Road is the town of Somerton. The first available notes of this settlement were written in 1720. Sometime previous to this a few houses were built on the western boundary of Byberry Township and the eastern boundary of Moreland Township. As the place assumed the appearance of a village, it was first named Smithfield. It contained about ten buildings, including a store, a tavern, and a blacksmith shop. Thomas Livesey surveyed the town in 1758. He describes the town as containing about eighty acres, with a Main Street, now known as Bustleton Avenue. Some of the early families of Byberry and Moreland Townships included Comly, Knight, Walmesley, Walton, Worthington, Carver, Hart, Rush, English, Groome and Gilbert. The name Smithfield was changed to Somerton sometime between 1862 and 1876. The change was prompted by the control that Judge Sommers exercised over the region in owning substantial property on both sides of Bustleton Avenue where Leo Mall stands today. By this time the town consisted of thirty-five dwellings, a public school, a Methodist Church, three hotels, two shoemakers, a doctor, an undertaker, a general store and several artisans.
Somerton has an old country store dating from the late 1800s which still serves the community. The store, which is located on Maple Avenue near the Somerton Railroad Station, has had seven proprietors since about 1890. They are Depue's Samuel Erwin, Adam McLean, William Quigley, Collins, Baer and now Brittingham. A home, part of which was built in 1714 near Trevose Road and Kelvin Avenue, may have served as an Indian Trading Post. A log house, built in 1734, stood until about 1918 on Bustleton Pike just north of Trevose Road. The house, that replaced the log house built by a Somerton builder for his daughter, also is gone. Apartments and condominiums replace these old memories. William Bubeck built many homes in Somerton, of which one still stands on Whitney Street, one on Byberry Road and one on Maple Avenue.
The schools in the early days of Somerton stood near the same site as the Watson Comly School on Trevose Road. These early schools include the Smithfield School, the Patrick Henry (erected in 1847) and the first Watson Comly School (erected in 1892). Pupils attended this school until 1928 when a deal was made to acquire the present day site on Byberry Road. The building was appropriated by the Masonic Lodge in 1928. The Masons made the deal to exchange the two properties so they could have the school site for the lodge hall.
Churches were an important part of nearly every community. The town's Quakers founded the Byberry Friends Meeting in 1683. The Baptists and others went to the Pennypack Meeting House, founded in 1688, in the western part of Bustleton on Krewstown Road. The Methodist Church, opened in 1834, was housed in an old school building on Trevose Road until 1836 when it was moved to its own building. This church recently has been restored. St. Andrews-in-the-Field Episcopal Church, and St. Christopher's both began in Taylor's barn on the northeast corner of Byberry Road and Bustleton Pike. Each congregation has grown, and the churches have been moved to their present locations. Other denominations sprung up in later years along Worthington Road, Tomlinson Road and Bustleton Avenue.
In 1870 trains came through Somerton on the Reading Line, but on July 20, 1992, the old station building was torn down without any notice to the community. Trains still stop here, but the 1870 Victorian Station is gone. Some people may remember the large double-decker bus that served Somerton. It traveled up the Boulevard from Frankford to Southampton road, went west to Trevose Road, turned left to Edison and went past the railroad station to Busfleton Pike and Somerton Avenue. Today, Somerton is served by the 58 bus and the 84.
Bustleton Pike was laid out in 1697 by John Harper, a Quaker who arrived with William Penn. The Pike became known as the Philadelphia-Newtown Highway or the Great Highway. At first, the highway extended to the Buck Hotel in Feasterville, but by 1795, it ran to Churchville, Bucks County. In 1804, when the Turnpike Company was started, the road was extended to Richboro. It became known as the Bustletonl Smithfield Turnpike and was fashioned into a toll road. In about 1840 it became known as the Bustletonl/Somerton Turnpike.
Bustleton is just three miles south of Somerton. Its boundaries have changed over the years, primarily as a result of zip code changes. Bustleton was located in the extreme northwest corner of Lower Dublin Township and a bit into Moreland Township, where the Leo Mall stands today. The boundaries changed in 1854 when the city consolidated all of the old townships and boroughs of the county of Philadelphia. Although the boundaries changed, many people as far north as Tomlinson Road still considered themselves part of Bustleton for years.
The town grew at the crossroads of Bustleton Pike and Welsh Road. Although the Swedes had arrived as early as 1645, they had traveled west along Pennypack Creek and settled near Pine Road & Susquehanna Road. Notes about Bustleton show signs of growth as early as 1706. Before the Revolutionary War, the Bustleton Hotel was located where the Frankford Trust Bank stands today. By 1840, there were approximately 300 people living in Bustleton, which consisted of a church, several stores, a few taverns and numerous homes. Some of the early families were Ashton, Fisher, Verree, Comly, Dungan and Heritage.
Religious activity was an important part of the lives of the people. The oldest church is the Pennypack Baptist on Krewstown Road south of Grant Avenue. This church was founded in 1688 by twelve (12) residents, who met in their homes until the year 1701 when the first building was erected. In 1700 there were only 46 members. The building was enlarged in 1774 to an area thirty by forty five feet containing pews, galleries and a stove, which was a real innovation. Thinking the town would grow, members built a chapel on the pike just north of Welsh Road in 1860. In 1885 the large edifice at Bustleton Pike and Murray Street was built. Services still are held at Pennypack on the first Sunday of June, for special occasions and on Christmas Eve (1991 and 1992). Before 1885 the members were baptized in Pennypack Creek just south of the church. Baptism Rock is now gone, blasted out to make way for sewer lines to accommodate the growing community.
A preaching Methodist Church was organized in 1827 in the home of Daniel Starkey. Their first church was built in 1834 on the Pike just south of Welsh Road. In 1944 this building burned to the ground and a new one was built in the 9600 block of the Pike north of Fulmer Street. While waiting for the new building to be finished services were held in the Alburger Hall behind Lower Dublin Church. St. Luke's Episcopal Church was founded in 1861 on Welsh Road east of Bustleton Pike. In 1870 Maternity B.V.M erected their first church on the Pike on the north side of Pennypack Creek. Catholic services, prior to this, were held in a Mill located nearby. Today a new building and school are further up the Avenue across from the original Jacob school site.
Social life consisted of activities in the church or in the Lodge Halls. In 1847 the Union Hall was built on the Pike across from Fayette School. Union Hall was home to many lodge meetings as well as to two churches. The first Public Free Library was located on this spot in 1942. Later the Settlement Music School used the facility. It still stands today and is the home of the St. Peter and St. Paul Orthodox Church.
Education in such small towns started with the many private schools of the day. The longest existing school site in Philadelphia is Bustleton Academy started in 1790. It was not until 1836 that public schools came into being. The school board rented the private schools and it became known as the Fayette Consolidated School around 1845. As the town grew, more school space was needed and in 1915 a brick annex was added and the name changed to "William C. Jacobs Public School". This school continued to educate neighborhood children until June, 1986, when it was closed. In September, 1986 The Northeast Hebrew Academy rented the site and in March, 1990 they purchased the site. Although the name has changed a few times, the school has served the children of the neighborhood continuously for over 200 years.
Bustleton, like many other areas nearby, was a gathering place for farmers, but over the years this has changed. There is only one farm listed today, the Bustleton Sod Farm. The city school farm, Foxchase Farm, on the edge of Bustleton, south of Pennypack Creek and Pine Road, is protecting a piece of green for the city and educating some of our young people about gardens and raising livestock. . Pennypack Park, Poquessing Watershed, and Benjamin Rush State Park are important sites that help explain what the community was like 200 years ago.
The area serviced by the Bustleton Somerton Library had a population of 300 in 1840. In 1940, Bustleton and Somerton combined had a population of 1,269 people. Forty years later, Bustleton had 30,427 residents and Somerton had 30,496 residents. This population growth was spurred on by the many industrial parks constructed in the region and the development of Northeast Airport. The first airmail from the city flew out of the Airport, then located at the southeast corner of Red Lion Road and Bensalem Avenue (now the Boulevard), on May 15, 1918.
Some famous Philadelphians lived in the Far Northeast including Dr. Benjamin Rush, Stephen Decatur, Edward Duffleld and Lucretia Mott spoke in Byberry Hall. Nicholas Moore, a lawyer from London and one of William Penn's Quakers owned a good bit of Somerton in the late 1600's. Edward Marshall, of the famous Indian Walks in 1737, was born in Bustleton. George Washington and his men encamped along the Poquessing Creek near the Red Lion Inn during their retreat from New York to Valley Forge. There may be some who would remember comedienne Cass Daly a resident of Bustleton, who made her debut on the Silver Screen in 1942.
Interviews...
These interviews were done by Ms. Angel Chiango and Ms. Judy S. Filipkowski's 4th grade Mentally Gifted students of Watson Comly School in Somerton.
Interview with Helen Stoudt
by Rachel Cohen and Melissa Morbo

Miss Stoudt was born in Bustleton in 1906. She lived in many houses, but she loved her house on Kohl Street best built by her grandfather Lodge. The house was a three story house. She was born in that house because women did not go to hospitals in those days. Kohl Street is just below the Baptist Church on Bustleton Avenue and only runs one block to the West. Lodge built two houses on the other side of the street for his two other children that got married.
Her house had four bedrooms, a living room, parlor, dining room and kitchen. The house was heated by coal. Miss Stoudt's mother cooked on a coal stove. In the summer they cooked on a kerosene stove in the back shed because it was to hot to cook on a coal stove. They had to heat water for baths and water was stored in the kitchen. Laundry was done outside in a stationary tub. They had to rub their clothes on a washboard to clean them and then hang the clothes on a clothes line outside to dry.
They did not have a radio but did have a telephone. On the third floor of the house there was a large room. Miss Stoudt and her brother would rollerskate and ride their bikes there.
Her grandmother on her mothers side was born here but her grandfather was born in the Central Pennsylvania Dutch area. He was a Pennsylvania German. Her grandfather had four sisters and two brothers. She was not sure where her grandmother came from, but she knows she was mistreated as a little girl. She was forced to work for a family who did not take care of her. She was left in a cold room and eventually mistreatment led to her becoming deaf. Her grandmother was an excellent cook who loved to bake cakes and pies. Miss Stoudt has many of her grandmother's recipes.
Miss Stoudt's mother never worked. Her father worked for a company downtown that sold lumber. He brought home many unused and unsold pieces of lumber and made tables and toys for Miss Stoudt and her brother. Her father was very handy.
Miss Stoudt is one of three children. She has a brother who is a retired veterinarian and had an office in Frankford. Her older sister died at the age of five shortly after Helen was born. Miss Stoudt went to the Fayette School which was later changed to the W.C. Jacobs School in 1916 when they added the new building.
There were 48 desks in a room, and they were in rows. The teacher had her desk in the front of the room and no one ever talked or cheated on tests. Miss Stoudt remembers her classroom being divided when she was in third grade. There was one teacher who taught both classes. Her teacher's name was Annabell Edwards a woman who spent her whole teaching career at the Jacobs School and lived all her life in Bustleton.
There were no toilets in the school until 1916 when the new building was added. The children had to go to the back of the school to go to the outhouse in order to go to the bathroom. For lunch she walked home and then went back for the afternoon session.
As a child Miss Stoudt did not like to play with girls. She enjoyed playing with her brother and his friends.
She went to Frankford High School. She said she was not a very good student in school but she always passed her subjects. Latin was her favorite subject in high school. She graduated from Frankford in February and in September she went to the University of Pennsylvania. She graduated in 1928 from the school of education but was not able to find a teaching job.
She managed to get a job for a printer at ten cents an hour straightening out his ledger. When she left at the end of two years she was earning 25ç~ an hour. She learned how to set type and proofread copy, so she decided she wanted to get ajob setting type. Her last position was at the Presbyterian Board of Christian Education which she held for thirty years. Her job was copy editing, proofreading, writing, and learning a lot about printing.
The church Miss Stoudt attends is the Lower Dublin Baptist Church on Murry Street and Bustleton Avenue. Her father died when she was five and her mother joined the Church. Miss Stoudt joined the Church when she was 14 years old and remains very involved. The Church was founded in 1688 on Krewstown Road opposite the cemetery.
In 1885 the present building was erected. The Church was first called Pennypack Baptist Church. There is a pipe organ in the Church that was donated by the Andrew Carnegie Fund the year Miss Stoudt was born. The organ still is in excellent condition. Bustleton is quite different from when Miss Stoudt was growing up, when it was more like growing up in the country or suburbs. Bustleton is very large, but she found the people to be close and friendly on Bustleton Avenue. There were trees on the side of the Pike. Horses would go up and down the street. Then the trolleys were invented, so they had to cut down the trees and widen the Pike.
Her family would go shopping at the corner of Bustleton Avenue and Welsh Road at the American Store, which later became an Acme. She used to buy bread for 5c~ a loaf. They traveled by car and train. Her father owned a Maxwell Car, which was a touring car that could not be used in the rain. When they did not use the car, they walked to the train. It was difficult in that area to get to the Reading train.
Her social life was exciting. She went to Churches and lodge halls for various activities. In the winter, she would go sledding. She also went ice skating at Haldeman Avenue above Red Lion Road, on Foster's Pond. She had to walk a mile and a half to get there, but she did not care.
Interview with Hazel S. Clay
by Maria Mouzithras

Hazel S. Clay did not need to go to the store for food. She was born in the farmhouse at Red Lion Road and Bensalem Turnpike, which is now Haldeman Avenue. Her parents farmed it for a living. Along with her brother and sister, they were the fifth generation on that farm. Hazel's ancestors came from Germany on her father's side. Her mother's side came from England.
The farmhouse had a back shed, large kitchen, dining room, and a parlor. There were five bedrooms and an attic which also had a bedroom. She remembers the fireplace in the dining room, living room, and one in each end bedroom. But they did not use the fireplaces because they had a pipeless heater to heat the house. The large cook stove in the kitchen also kept them warm.
They grew their own vegetables, fruits, and meat. They raised potatoes, tomatoes, string beans, lima beans, asparagus, beets, carrots, celery, sweet corn, horse corn, spinach, peas, and turnips. They had delicious fruit trees such as apple, pear, peach, cherry, grape, and plum. They raised chickens, cows, and pigs. Their family butchered pigs for ham, scrapple, and lard. Vegetables were canned, not frozen. They had an ice box, not an electric refrigerator like we use today.
There were always plenty of chores to do on the farm. The horses, cows, and chickens had to be fed, watered, and bedded down. She also had to collect the eggs. Her mother baked breads, pies, and cakes. She made butter and with the extra butter she traded for flour and sugar. As for stores, there were the peddlers who often came around with a big selection in huge showcases. There was Ervin's General Store in Somerton. They had a truck and delivered.
Mail was delivered twice a day at 10:00 a.m. and 2:00 p.m. The mail came from the Torresdale Post Office. The Clay family voted in Somerton. Hazel went to school in Bustleton. She attended the William C. Jacobs School from Kindergarten to 8th grade. When she started school she had to walk about one mile and a half. Later her parents got a car, a Mitchell. In 9th grade she went to Frankford High School.
Hazel remembers lots of snow in the winter, and since they had a large lawn they played games on the lawn. One game they played in the snow was "Fox and Geese." They made a large wheel in the snow with spokes, and the fox was to catch the geese. In the summer, they played lawn croquet and later they played badminton with a net. She liked to play hop scotch, and drew the blocks in the driveway which was made of cinder and dirt. They also played card games and board games such as Parcheesi at her house.
She enjoyed walking in the woods in the spring. She would look for spring flowers such as spring beauties, jack-in-the pulpit, and violets.
Listening to the radio was how people got the news, although their family did get a morning and an evening paper. When she was growing up there were neighborhood sledding parties, skating, and Christmas parties.
Interview with Mrs. Edna T. Finney
by Maureen Ragan & Kevin Boyle

Mrs. Fmnney was born in Croydon, Bucks County on October 1, 1906. Her parents were dairy farmers who also grew hay, corn, potatoes, and seventeen acres of asparagus. She had a brother and two sisters. Her ancestors were from Wales. and England.
She moved to a three story house on Academy Road in Byberry in 1909. The area is now Parkwood, Modena Park, and Academy Gardens. The house had a water catcher for catching rain water for the kitchen and bathroom. There was a central heater in the basement that sent heat into every room. The had a parlor that was used only on Sundays and for company. The furniture was antique and covered with horse hair.
They didn't have to shop for much food because they lived on a farm. They sold butter and milk and went to market to sell vegetables that they grew. They did not have a refrigerator and kept meat and butter in a well in the basement that had cold spring water. They also had pantries in the cellar where they stocked up food for the winter. If they needed groceries, they were one of the first to get a telephone so they called a grocer in Holmesburg who delivered their order.
Laundry day was always Monday. The family put all of their clothes into a big boiler on a big stove in the kitchen. Then they were turned and put into two big tubs to clean out the soap. The clothes were hung in the yard to drive. Tuesday was ironing day.
The family would go to Bristol on Saturday night by horse drawn wagon to shop and see their friends. The horse knew the way home! The family's first car was a Maxwell. They also had a Maxwell truck which Mrs. Finney learned to drive on their farm. She never got a driver's license. The got their first telephone in the 1920s and their first radio in the 1930s.
She went to school at Byberry Friend's School on Byberry Road. They took a bus with wooden tires to school. She also went to Maple Grove School on Academy Road and Frankford High School. She left school after the ninth grade. The children would go out with their friends on Sunday and have sledding and watermelon parties. She picked flowers, jumped in weeds, played baseball and soccer, and took walks near streams. She didn't have many toys. They would only receive toys at Christmas.
Interview with Mary L. Hoffner
by Ken Gollon

The small town of Eddington, PA located in the beautiful countryside of Bucks County, PA, became the first home for Mrs. Mary Lukens Hoffner as a child. She was born in 1905 in the home of her parents on Route 13. Mary was one of two children, but her sister lived to be only six months old. Mary never knew her.
Soon after, Mr. Lukens decided to move his family to Somerton, PA.
Life as a child was wonderful according to Mary. She grew up in a warm, loving home with her mother and father. Mrs. Lukens, as most other mothers at that time, stayed home to take care of Mary. It really meant a lot to her that her mother was there for her.
Her father worked at John Wanamakers department store in Philadelphia. In fact, he worked there for 70 years before retiring. After Wannamakers, he continued to stay busy by working at Mr. White's, a local store.
Mr. Lukens used the train to travel to his job in the city. Before he would come home from work, he would shop for the family's groceries at the Reading Terminal Market in the train station. Since Mr. Lukens brought home everything they needed, Mary's mother very rarely had to shop.
There were several stores in the area such as Mr. White's and Mr. Quigley's (now Brittingham's General Store). However, the best place to shop was in center city Philadelphia at Lit Brothers, Wanamakers and Snellenbergs. They had the best selection and it was worth the train ride into town. Along with food, Mr. Lukens would also bring fabric home from Wanamakers. Mary's mother would sew clothing for Mary and her friends with her old fashioned sewing machine.
The large, three story house on Edison Avenue has been the only home to Mary for the past 88 years. She remembers a time when there were only 6 homes in the Somerton area. Her girlfriends lived across the street (currently the Mayo Nursing Home). There were close ties with her childhood friends. When Mary had the measles, her friends also had them and her mother would take care of all the children at her home.
Although life was less hectic many years ago, there were also less conveniences to make life easier. Their large house, containing eleven rooms, had to be heated with coal. This required shoveling the coal into the furnace around the clock to stay warm. In later years they converted to oil heat which made life a little easier for Mary's father. Prior to the sewers being installed that connected them to the city's water supply, the family had to pump water from a well and had cesspools for sewage in the backyard. Laundry was done by Mary's mother in two washtubs. One of them had a washboard in it that was used for scrubbing the clothes. Later she used a wringer washer.
A man by the name of Mr. Roberts was the lamplighter. He had only one leg but was still able to ride a bicycle from house to house. In order to light the lamps with his torch, he would have to wrap his leg around the pole to steady himself.
Mary's earliest memory is as a very young child. Her parents took her to church every Sunday. They walked in all kinds of weather since her father never owned a car. Mary's mother wanted her to sing on Children's Day at the church. In those days, children drank a lot of milk from bottles. She went up to sing at the alter with her bottle of milk. Mary heard someone in the congregation say "Look at that baby with a bottle!" She immediately slammed down the bottle on the marble floor and never drank milk again.
When Mary was old enough, she attended class at the Old Comly School on Trevose Road. She walked there regardless of the weather. Miss Ross was the principal at the time and there were 6 rooms. They were not crowded with students like many of our classes are today. The children brought their lunch and either ate inside the classroom or outside in good weather.
Prior to 1928 all the schools of Somerton were built on either the church grounds or on the Comly School grounds. There were two other schools before the Watson T. Comly School. The first was the Smithfield School and then in 1847 there was the Patrick Henry School. Foundations of the previous schools were found during construction of the first Comly School.
After Comly, Mary went to Frankford High School and then to a special school at Wanamakers for interior design. She followed in her father's footsteps and worked there for sixteen years.
When Mary was not in school, she had a wonderful time with her friends. Once a year, for a week, the fair would come to town and set up near the train station on Byberry Road. She looked forward to the ferris wheel, horseracing and just walking around the fair grounds. The summer meant swimming with her friends in Poquessing Creek. They would take the boys clothing and hide it as a joke. The family vacation in the summer was a trip to Atlantic City. After the train ride downtown, they took another train to Atlantic City.
The winter brought many good times for Mary. She and her friends would walk up to the top of Trevose Road for the perfect sled ride down to the bottom of the hill. This road was not used by cars nearby as much as it is today so the children could enjoy themselves without worrying about traffic. Ice skating was another highlight in the winter. The children would go to the lake at the cemetery for fun on the ice.
At the age of 12 or 13, Mary drove her friend's Cadillac up to Langhorne although she didn't have a license until she was 16. It wasn't until she was married that she and her husband bought a Ford with a rumble seat.
Mary and her parents listened to the radio programs and music prior to television. Later, she recalls Jack Benny along with Laurel and Hardy as her favorite television programs. The show she enjoys now is Home Improvement with Tim Allen. She enjoys the children in the show and their little pranks.
As a young woman, Mary played the organ at church. She also played the Wanamaker organ once at the Matinee Musical of Philadelphia.
Along with the wonderful memories there were difficult times for her family during the depression. It's hard to imagine the hardships that were imposed on people. Mary remembers the rationing of gas, butter, and various other items we take for granted. Everyone was very stressed and had to make the best with very little. Mary remembers being questioned by strangers as to why she and her husband were out driving when it wasn't an absolute necessity.
Many changes have taken place over the years and Mary has seen the community change and grow along with her loved ones. Mary's father lived to be 94 years old and her mother lived to be 93 years old. Mary has fond memories of her life with her husband of 61 years. He passed away two years ago and she misses him very much. She now lives with her son.
Mary is a warm, kind person and really seemed to enjoy all the simple pleasures life offered over the many years.
Interview with Silas White
by Laura Ann Rillera

Silas White is a very friendly person who was born in 1910 and lived in three houses during his lifetime. The first house that he lived in as a child had no heat upstairs, only downstairs. A coal stove in the kitchen was the main source of heat. The house had no running water inside — it was not unusual for that time to have a pump for water in the back porch. Silas used oil lamps because there was no electricity available until the year of 1922. His dad and mom owned and operated a meat and grocery store. The store was located between Bustleton and Somerton Avenues.
As a child, Silas made up his own games and toys. He enjoyed playing baseball, fox and geese, and cops and robbers. His favorite toy was a train that could be wound up and placed on a round track. He made his own toys such as ice skates to play hockey.
The main transportation was to walk. If distance was involved, trains or horses and carriages were used. Buses came out in the 1920's. An important event that Silas recalls was the railroad wreck that occurred in Bryn Athen where his wife's father died and 26 others were injured.
In grade school, Silas attended Watson Comly School. Boys and Girls played on separate sides of the schoolyard. Later he went to Northeast High School followed by the University of Pennsylvania.
When Silas was older, he worked in his parents store from 1943 to 1975.
Silas's advice is to study and go to school and go to college and advance your knowledge.